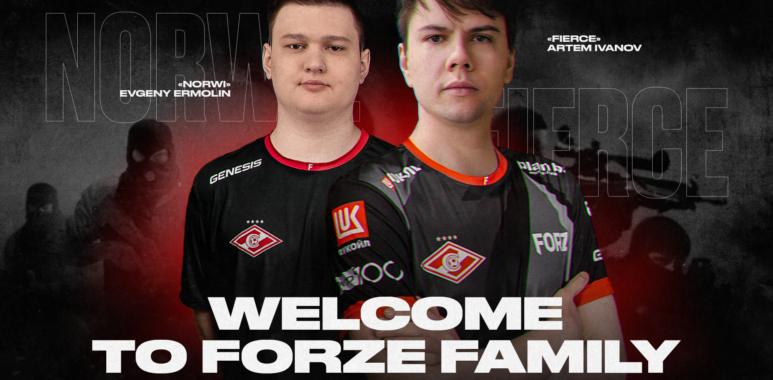 Norwi and Fierce joined Forze CS:GO
The waiting has been short. Today we welcome 🇷🇺 Eugene "Norwi" Ermolin, who joined Forze CS:GO roster as a player, as well as the new head coach – 🇷🇺 Artem "Fierce" Ivanov.
Artem "Fierce" Ivanov began his coaching career in September 2017 with Vega Squadron. Under his leadership the team twice performed at Major tournaments – FACEIT Major: London 2018 and ELEAGUE Major: Boston 2018. Eugene "Norwi" Ermolin started his professional career last year in March and has already established himself as a talented player standing up for his teams in leading positions.
Sergey "MegioN" Ignatko, CEO of Forze Esports:
"Our management followed Fierce for a long time and when the time came we offered him to join us. We can say that we know him well.
Norwi is a promising young player with good game statistics, who suited us in all game parameters. Fierce also recommended him as a player who will be useful in the updated roster."
The first test for the updated roster will be qualifications for DreamHack Open November 2021, which will start tomorrow. Stay tuned for further announcements.
Forze CS:GO:
🇷🇺 Andrey "Jerry" Mekhryakov
🇷🇺 Alexander "KENSI" Gurkin
🇷🇺 Alexander "zorte" Zagodyrenko
🇷🇺 Evgeny "Norwi" Ermolin
🇷🇺 Аrtem "Fierce" Ivanov (coach)